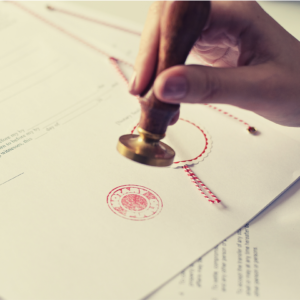 Online notarization is permitted globally and across Canada. Legally notarize documents online from the comfort of your home or in-person.
Notarize quickly your documents within a few minutes by a Licensed Lawyer in Ontario for a very affordable price.
Prices:
A first notarization is $35 CAD plus HST. Additional notarized documents are $18.95 CAD each plus HST.
A first notarized Will, Power of Attorney, or Separation Agreement is $59.95 CAD plus HST. Additional copies  are $29.95 CAD each plus HST.
Types of Documents that I notarize:
As a licensed lawyer in Toronto, Ontario, I notarize and virtually commission any document in multiple languages including French, Arabic and English, quickly and affordably.
I also notarize and commission thousands of documents via remote online notary services.
Additional benefits of hiring a licensed lawyer in Toronto to notarize or commission your documents:
With a Licensed Lawyer who is additionally a Notary Public, you benefit from the convenience of a one-stop shop and the experience and high education of a trusted legal professional when providing proper legal templates and reviewing any legal issues.
As an accomplished lawyer, called to the Ontario Bar and in good standing with the provincial Law Society, I strive to provide the best service with exceptional notary talent.
How online notarizing works:
Step 1: Send your documents by email to law@ranacharif.ca as well as a clear copy of your ID.
Step 2: Connect with your Notary Public via online video call  within the same or next business day.
Step 3: Electronically sign your document as witnessed by your Notary Public.
Step 4: Receive your completed document within a few short minutes.
SIMPLE !
For IDs, either send or bring one government issued photo identification (examples: passport, citizenship card, permanent resident card, driver's licence, OHIP) or two government issued non-photo identification (examples: SIN card, birth certificate).
Documents that I notarize online:
Service Ontario / Ministry of Finance documents, including the and Sworn Statement for the Transfer of a Used Vehicle in the Province of Ontario and the Sworn Statement for a Family Gift of a Used Vehicle in the Province of Ontario
Affidavits (any type) including OSAP Affidavits
Statutory Declarations
Recommended Consent Letter for children traveling abroad (commonly referred to as a travel consent letter)
CCDC 9A – Statutory Declaration of Progress Payment Distribution by Contractor
Delayed birth registration forms
Application to amend birth registration
Declaration affirming parentage
Election to change of name of child under the age of 12
Statutory declaration by an applicant to correct an error in registration
Legal name change application
Blank statutory declaration
Insurance claims
Common law status affidavits
Special invitations to family members overseas
Passport applications (in lieu of guarantor)
Pension purpose attestations of recipient being alive and confirming their residency
Residency document
Lost passport
Single status certificate
Federal government permanent residency card applications
Municipal Information Form (MIF) for liquor license
Affidavit waiving vaccinations based on religious grounds
and many more…
Documents that I cannot notarize online:
Last Will & Testament (these must be physically signed)
Power of Attorney (these must be physically signed)
Trusts
Negotiable Instruments (Promissory Notes, Loan Agreements, etc)
Certified true copies of original documents (i.e. "notarized copies")
Separation Agreements / Divorce Agreements
If you do not find your document in this list, email law@ranacharif.ca for a quick inquiry.
As an essential business, we are open throughout this pandemic. By appointment only. Same day appointments available.
Notary Public Address in Downtown Toronto: 101 Charles Street East, Toronto, M4Y 0A9.
Go the convenient way, hire a licensed lawyer in Toronto who is a Notary Public.
Electronically sign and digitally notarize your documents online, without leaving your home.